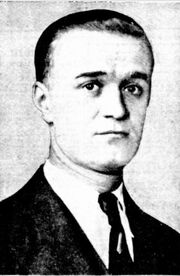 Gaston Leroux (born January 9, 1913, August 29, 1988) was a Canadian professional ice hockey defenceman who played two games in the National Hockey League for the Montreal Canadiens. He was born in Montreal, Quebec.
He played senior hockey in Montreal for the Montreal Canadiens (Senior), Montreal St Francois Xavier, Montreal Nationale, and Lafontaine Bleus from 1930 to 1934. He also played 8 games for the minor pro Quebec Castors in 1933-34.
In 1934-35 Leroux turned pro with the Cleveland Falcons. The Canadiens signed him at the end of the season and he played 2 games for them in 1935-36, while spending most of his time in the minor pros.
After that season Leroux returned to senior hockey and played for the Sherbrooke Red Raiders until he retired in 1939.
External links
Edit
Ad blocker interference detected!
Wikia is a free-to-use site that makes money from advertising. We have a modified experience for viewers using ad blockers

Wikia is not accessible if you've made further modifications. Remove the custom ad blocker rule(s) and the page will load as expected.