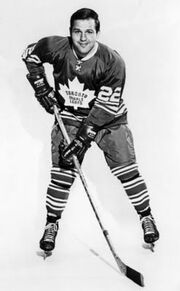 Gary Marsh (born March 9, 1946 in Toronto, Ontario) was a professional ice hockey left wing who played seven games in the National Hockey League. He played with the Detroit Red Wings and Toronto Maple Leafs.
He played junior for the Hamilton Red Wings from 1962 to 1966. In 1966 March turned pro with the Memphis Wings. The Detroit Red Wings called him up for six games in 1967-68, when he scored a goal and three assists. But he spent most of the season with the Fort Worth Wings.
In 1968 the Toronto Maple Leafs accquired him. After playing one game for them in 1968-69, Marsh was sent back to the minors. He played in the minor pros until 1971. After that year Marsh played three seasons for the senior Orillia Terriers and then retired in 1974. The Terriers won the Allan Cup in 1973.
Marsh was head coach of the Tier II Junior "A" Orillia Travelways from 1982 to 1986.
References
Edit
Ad blocker interference detected!
Wikia is a free-to-use site that makes money from advertising. We have a modified experience for viewers using ad blockers

Wikia is not accessible if you've made further modifications. Remove the custom ad blocker rule(s) and the page will load as expected.