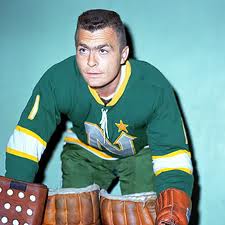 Garry Glenwood Bauman (July 21, 1940, in Innisfail, Alberta - October 16, 2006) was a professional ice hockey goaltender in the National Hockey League during the 1960s. He played 35 games over three seasons with the Montreal Canadiens and Minnesota North Stars.
He played junior hockey with the Prince Albert Mintos and then went to Michigan Tech University from 1960 to 1964. There he led his team to win the Frozen Four NCAA title in 1962.
Bauman and Montreal teammate Charlie Hodge shared goaltending duties in the 1967 NHL All-Star game, combining to record the first--and still only--shutout in the history of the showcase event. It was one of only three games Bauman played with Montreal before being selected by the North Stars in the 1967 NHL Expansion Draft. He played parts of two seasons with the Stars, and then returned to Alberta to play for Calgary in senior leagues.
He played in a total of 35 NHL games and retired in 1972.
External links
Edit
Ad blocker interference detected!
Wikia is a free-to-use site that makes money from advertising. We have a modified experience for viewers using ad blockers

Wikia is not accessible if you've made further modifications. Remove the custom ad blocker rule(s) and the page will load as expected.