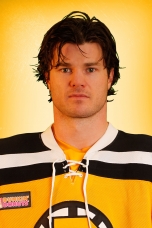 John Garnet Exelby
Drafted by Atlanta Thrashers 8th round (#217) in 1999 NHL Entry Draft

the hard-nosed defenseman, played three seasons in the WHL, with stops in Saskatoon and Regina. ... maked his professional debut with the AHL's Chicago Wolves in 2001-02. ... played two seasons with the Wolves. ... was a solid defender as the team captured the Calder Cup title in 2002. ... impressed the Atlanta staff to earn 15 games throughout the 2002-03. ... became a regular on the Atlanta blue line in 2003-04. ... established himself as a feared open-ice hitter. ... inaugural recipient of the Dan Snyder Memorial Award in 2003-04. ... in the summer of 2009 he was acquired by the Toronto Maple Leafs. ... became a free agent on July 1, 2010. ... invited on a try-out basis to the New York Rangers training camp in 2009. ...
Career Statistics
Edit
Awards & Achievements
Edit
Career Moves
Edit
Traded to Regina (WHL) by Saskatoon (WHL) for Scott Balan and future considerations, January 15, 2001.
Traded to Toronto by Atlanta with Colin Stuart for Pavel Kubina and Tim Stapleton, July 1, 2009.
Signed to a PTO (professional tryout) contract by Rockford (AHL), October 9, 2010.
Signed as a free agent by Chicago, November 26, 2010.
Signed as a free agent by Detroit, July 5, 2011.
Signed as a free agent by Boston, July 11, 2012.
External links
Edit
Ad blocker interference detected!
Wikia is a free-to-use site that makes money from advertising. We have a modified experience for viewers using ad blockers

Wikia is not accessible if you've made further modifications. Remove the custom ad blocker rule(s) and the page will load as expected.