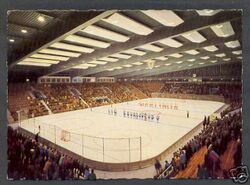 Garmisch Olympia Stadion is an arena in Garmisch, Germany. It is primarily used for ice hockey, and is the home arena of the SC Garmisch of the Deutsche Eishockey Liga. Garmisch Olympia Stadium opened in 1935 and holds 6,929 people. It also hosted Germany's single home game during the 1996 World Cup of Hockey. This arena also hosted some hockey and figure skating events at the 1936 Winter Olympics.
Ad blocker interference detected!
Wikia is a free-to-use site that makes money from advertising. We have a modified experience for viewers using ad blockers

Wikia is not accessible if you've made further modifications. Remove the custom ad blocker rule(s) and the page will load as expected.