Ad blocker interference detected!
Wikia is a free-to-use site that makes money from advertising. We have a modified experience for viewers using ad blockers

Wikia is not accessible if you've made further modifications. Remove the custom ad blocker rule(s) and the page will load as expected.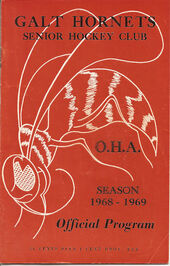 The Galt Hornets were a senior team in Galt, Ontario.
They started out as the renamed Galt Terriers in 1962.
The Hornets won the Allan Cup in 1969 and 1971.
They were renamed the Cambridge Hornets in 1973 when Galt amalgamated into the city of Cambridge.
Season-by-Season Results
Edit
| | | | | | | | | | |
| --- | --- | --- | --- | --- | --- | --- | --- | --- | --- |
| Season | GP | W | L | T | GF | GA | Pts | Finish | Playoffs |
| 1962-63 | 40 | 13 | 25 | 2 | 151 | 214 | 28 | 5th | Lost Semi Final |
| 1963-64 | 40 | 25 | 10 | 5 | 195 | 144 | 55 | 2nd | Lost Final |
| 1964-65 | 40 | 24 | 15 | 1 | 167 | 135 | 49 | 2nd | Lost Semi Final |
| 1965-66 | 42 | 18 | 22 | 2 | 149 | 181 | 43 | 5th | out of playoffs |
| 1966-67 | 40 | 23 | 14 | 3 | 188 | 162 | 49 | 4th | Lost Semi Final |
| 1967-68 | 40 | 27 | 12 | 1 | 152 | 105 | 55 | 1st | Lost Final |
| 1968-69 | 39 | 29 | 10 | 0 | 243 | 131 | 58 | 1st | Won League & Allan Cup |
| 1969-70 | 40 | 26 | 11 | 3 | 198 | 114 | 55 | 2nd | Lost Final |
| 1970-71 | 40 | 32 | 8 | 0 | 246 | 103 | 64 | 1st | Won League & Allan Cup |
| 1971-72 | 40 | 27 | 12 | 1 | 197 | 126 | 55 | 2nd | Lost Final |
| 1972-73 | 44 | 25 | 18 | 1 | 200 | 153 | 51 | 3rd | |