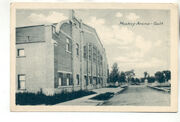 The Galt Arena Gardens was built in the fall of 1921 and hosted its first game on January 22nd 1922. Still operating today in Cambridge, Ontario, it is the longest continually operating hockey facility in Canada. The Galt Arena housed the Galt Terriers Hockey Club who were the 1926 winners of the OHA Intermediate Championship. The Terriers also played in the Canadian Professional Hockey League.
Between 1995 and 1997, the Galt Arena Gardens underwent a $4.5 million renovation ensuring it will continue in service as one of Canada's most historic hockey buildings.
Ad blocker interference detected!
Wikia is a free-to-use site that makes money from advertising. We have a modified experience for viewers using ad blockers

Wikia is not accessible if you've made further modifications. Remove the custom ad blocker rule(s) and the page will load as expected.