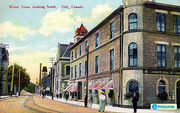 Galt was a town in the western part of Southern Ontario just to the south of Kitchener. In 1973 it was amalgamated with the towns of Preston and Hespeler to form the city of Cambridge.
(OHA Sr., 1891-1893; 1905-1908; 1923-1925; 1926-1927
(OHA Jr., 1901-1902; 1904-1905; 1910-1914; 1918-1920; 1921-1931; 1932-1933)
(OHA Jr., 1924-1925)
(OHA Sr. B, 1929-1930) to Intermediate A
(OHA Intermediate A 1930-1932)
(Canadian Professional Hockey League, 1929-1930) join OPHL
(Ontario Professional Hockey League, 1930-1931)
(OHA Sr. B, 1932-1935)
(OHA Sr. A, 1935-1935) withdrew before play; join OHA Intermediate A
(OHA Intermeidate A, 1935-????
(OHA Sr. B, 1940-1941)
(OHA Sr. A, 1960-1962)
Champions
Edit
External Links
Edit
Ad blocker interference detected!
Wikia is a free-to-use site that makes money from advertising. We have a modified experience for viewers using ad blockers

Wikia is not accessible if you've made further modifications. Remove the custom ad blocker rule(s) and the page will load as expected.