Ad blocker interference detected!
Wikia is a free-to-use site that makes money from advertising. We have a modified experience for viewers using ad blockers

Wikia is not accessible if you've made further modifications. Remove the custom ad blocker rule(s) and the page will load as expected.
---
Canadian Junior A Outline
---
The Fred Page Cup is the Eastern Canada Junior "A" ice hockey championship of the Canadian Junior Hockey League. It was created in 1995 to fill the competition void created by the overcrowding of the Dudley Hewitt Cup Central Canadian championship in 1994 and the lack of competition for the Maritime Junior A Hockey League Champion since it absorbed the Island Junior Hockey League in 1991.
The Fred Page Cup was preceded by the Callaghan Cup.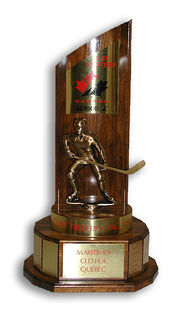 Competing Leagues
Edit
Champions
Edit
Eastern Canada Junior A Champions
Year
Champions
Runners-Up
Host City
For prior to 1994, please see Callaghan Cup.
1995
Joliette Nationals (QPJHL)
Cornwall Colts (CJHL)
Joliette, Quebec
1996
Moncton Beavers (MJAHL)
Dartmouth Oland Exports (MJAHL)
Dartmouth, Nova Scotia
1997
Kanata Valley Lasers (CJHL)
Longueuil College Francais (QPJHL)
Brockville, Ontario
1998
Brockville Braves (CJHL)
Restigouche River Rats (MJAHL)
Joliette, Quebec
1999
Charlottetown Abbies (MJAHL)
Hawkesbury Hawks (CJHL)
Charlottetown, PEI
2000
Cornwall Colts (CJHL)
Halifax Oland Exports (MJAHL)
Pembroke, Ontario
2001
St. Jerome Panthers (QJAAAHL)
Cornwall Colts (CJHL)
Coaticook, Quebec
2002
Halifax Oland Exports (MJAHL)
Ottawa Jr. Senators (CJHL)
Truro, Nova Scotia
2003
Lennoxville Cougars (QJAAAHL)
Nepean Raiders (CJHL)
Cornwall, Ontario
2004
Nepean Raiders (CJHL)
Valleyfield Braves (QJAAAHL)
Valleyfield, Quebec
2005
Hawkesbury Hawks (CJHL)
Yarmouth Mariners (MJAHL)
Yarmouth, Nova Scotia
2006
Joliette Action (QJAAAHL)
Pembroke Lumber Kings (CJHL)
Pembroke, Ontario
2007
Pembroke Lumber Kings (CJHL)
St. Jerome Panthers (QJAAHL)
St. Jerome, Quebec
2008
Weeks Crushers (MJAHL)
Pembroke Lumber Kings (CJHL)
New Glasgow, Nova Scotia
2009
Summerside Western Capitals (MJAHL)
Dieppe Commandos (MJAHL)
Dieppe, New Brunswick
2010
Brockville Braves (CJHL)
Pembroke Lumber Kings (CJHL)
Brockville, Ontario
2011
Pembroke Lumber Kings (CCHL)
Longueuil College Francais (QJAAAHL)
Terrebonne, QC
2012
Woodstock Slammers (MHL)
Nepean Raiders (CCHL)
Kanata, ON
2013
Truro Bearcats (MHL)
Summerside Western Capitals (MHL)
Truro, NS
2014
Carleton Place Canadians (CCHL)
St. Jerome Panthers (QJAAAHL)
St-Jérôme, QC
2015
Carleton Place Canadians (CCHL
Dieppe Commandos (MJAHL)
Cornwall, ON
2016
Woodstock, NB
2017
Terrebonne, QC
2018
Ottawa, Ontario