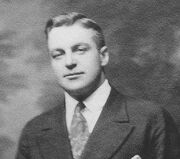 Frederick Ferguson McLean (b. March 16, 1893 in Lakeville, New Brunswick - d. November 18, 1971) was a professional ice hockey defenceman who played in 9 games over 2 seasons (1919-20 & 1920-21) in the National Hockey League for the Quebec Bulldogs and Hamilton Tigers.
Aside from those games McLean played senior hockey in the Maritime Provinces. He retired in 1921 to become the coach at the University of New Brunswick. McLean held that post until 1930, took three years off, and returned in 1933 and stayed till 1937.
External links
Edit
Ad blocker interference detected!
Wikia is a free-to-use site that makes money from advertising. We have a modified experience for viewers using ad blockers

Wikia is not accessible if you've made further modifications. Remove the custom ad blocker rule(s) and the page will load as expected.