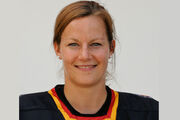 Franziska Busch (born October 20, 1985 in Seesen, Germany) is a German women's hockey player currently with ECDC Memmingen in the Women's Bundesliga.
She played for WSV Brauntage's teams from 2002-2008. Busch then joined OSC Berlin and the team won the championship three years in a row. She also won the championship with Memmigen in 2013.
Busch played for the Germany women's national ice hockey team for the first time in 2003 and has been with the team in every world championship since. Busch also played in the 2006 and 2014 Olympics.
Ad blocker interference detected!
Wikia is a free-to-use site that makes money from advertising. We have a modified experience for viewers using ad blockers

Wikia is not accessible if you've made further modifications. Remove the custom ad blocker rule(s) and the page will load as expected.