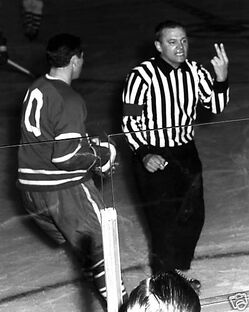 Frank Joseph Udvari (born January 2, 1924) in Yugoslavia was a NHL referee during the 1950s and 60s. He was the presiding referee during the game which initially sparked the Richard Riot. He was elected into the Hockey Hall of Fame in 1973.
External links Deceased august 13, 2014Edit
Ad blocker interference detected!
Wikia is a free-to-use site that makes money from advertising. We have a modified experience for viewers using ad blockers

Wikia is not accessible if you've made further modifications. Remove the custom ad blocker rule(s) and the page will load as expected.