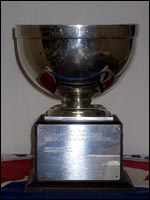 The Frank Mathers Trophy is presented annually to the AHL's team that finishes with the best regular season record in the Eastern Conference. Previously, it was awarded to winner of the Southern Division (1996), Mid-Atlantic Division (1997-2001), and South Division (2002-2003).
The award is named after former Hershey Bears coach Frank Mathers.
There is no equivalent award in the NHL.
Eastern Divison Champions
Eastern Conference Regular Season Champions
South Division Champions
Mid-Atlantic Division Champions
South Division Champions
External links
Edit
Ad blocker interference detected!
Wikia is a free-to-use site that makes money from advertising. We have a modified experience for viewers using ad blockers

Wikia is not accessible if you've made further modifications. Remove the custom ad blocker rule(s) and the page will load as expected.