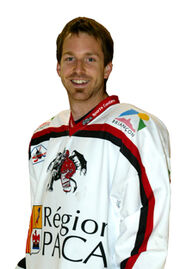 Francois-Pierre Guenette (born January 18, 1984, in Laval, Quebec) is a Canadian centre playing for Rouen Hockey Élite 76 in the Ligue Magnus in France.
He played major junior in the Quebec Major Junior Hockey League for the Halifax Mooseheads and the Cape Breton Screaming Eagles from 2001 to 2005. The Vancouver Canucks chose him 222nd overall in the 2003 NHL Entry Draft.
Guenette played in the ECHL from 2005 to 2007. The Canucks traded him to the St. Louis Blues on August 1, 2007, for Zack Fitzgerald.
In 2007 Guenette moved to Europe. He played for Italy's SG Pontebba in 2008-09 and then went to France to join the Briançon Alpes Provence Hockey Club in 2009-10. in 2010-11 he is playing for Rouen.
Ad blocker interference detected!
Wikia is a free-to-use site that makes money from advertising. We have a modified experience for viewers using ad blockers

Wikia is not accessible if you've made further modifications. Remove the custom ad blocker rule(s) and the page will load as expected.