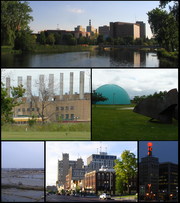 Flint is a city of about 125,000 with a metro population of about 450,000. It is located in eastern Michigan, United States.
(Central States Hockey League, 1999-2010) league renamed NA3HL
(North American 3 Hockey League, 2010-2014) sold and become La Crosse Freeze
(International Hockey League, 1985-1990) become Fort Wayne Komets
Michigan Warriors (North American Hockey League, 2010-2015) left without a home when Plymouth Whalers relocate to Perani Arena and Event Center
External Links
Edit
Ad blocker interference detected!
Wikia is a free-to-use site that makes money from advertising. We have a modified experience for viewers using ad blockers

Wikia is not accessible if you've made further modifications. Remove the custom ad blocker rule(s) and the page will load as expected.