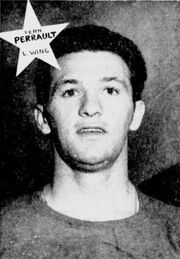 Fern Perreault (born March 31, 1927 in Chambly, Quebec) was a professional ice hockey left winger who played three games in the National Hockey League with the New York Rangers.
He played junior hockey with the Montreal Nationale from 1944 to 1946. In 1946-47 he turned pro with the New York Rovers, a New York Rangers' farm team. Perreault continued in the Rangers' system until 1951, playing three games with the NHL club in that span.
In 1951 he was traded to the Cleveland Barons of the American Hockey League. In mid-season 1951-52 he was sent to the Montreal Royals of the Quebec Senior Hockey League (QSHL). Perreault spent the remainder of his career in the QSHL and its successor leagues the Quebec Hockey League and the Eastern Professional Hockey League unril his retirement in 1960.
References
Edit
Ad blocker interference detected!
Wikia is a free-to-use site that makes money from advertising. We have a modified experience for viewers using ad blockers

Wikia is not accessible if you've made further modifications. Remove the custom ad blocker rule(s) and the page will load as expected.