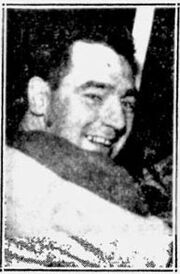 Fernand Majeau (May 3, 1916 in Verdun, Quebec – June 17, 1966) was a professional ice hockey centre who played 56 games in the National Hockey League. He played for the Montreal Canadiens. He won the Stanley Cup in 1944 with Montreal.
Majeau played junior hockey with the junior Verdun Maple Leafs from 1934 to 1936. He then embarked on a career with various senior teams in Quebec.
In 1943-44 he signed with the Montreal Canadiens and played 44 games and scored 20 goals and 18 assists. He also played one game in the playoffs, getting his name on the Stanley Cup. He played 12 more games in the NHL the next season and returned to the senior ranks.
He retired in 1949.
In the NHL he played in 56 games and scored 22 goals and 24 assists.
Ad blocker interference detected!
Wikia is a free-to-use site that makes money from advertising. We have a modified experience for viewers using ad blockers

Wikia is not accessible if you've made further modifications. Remove the custom ad blocker rule(s) and the page will load as expected.