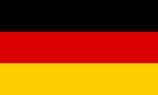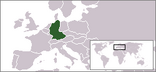 West Germany, or the Federal Republic of Germany, existed as such from 1949-1990. Its population in 1990 was about 63,000,000.
It was a country in western Europe and is now a part of a reunited Germany.
West Germany

Info

Rinks

Players

Referees

501 in 1988

Population in 1990

63,254,000

Indoor

198 in 1988

Total

14,208 in 1988

Male

--

Capital

Bonn

Outdoor

--

Male

--

Female

--

IIHF From

Junior

--

Country From

1949-1990

Female

--
The country was an IIHF member that competed in World championships, and the Olympic games. The country won the Bronze medal at Innsbruck in 1976. West Germany united with East Germany in 1990
National Teams
Edit
Ad blocker interference detected!
Wikia is a free-to-use site that makes money from advertising. We have a modified experience for viewers using ad blockers

Wikia is not accessible if you've made further modifications. Remove the custom ad blocker rule(s) and the page will load as expected.