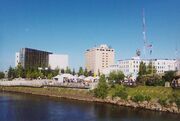 Fairbanks is a city of about 35,000 people in central Alaska, United States. Its metro area has a population of almost 100,000.
It is the second largest city in the state after Anchorage.
Minor League
Edit
Pacific Northwest Hockey League, 1991-1992)
Pacific Southwest Hockey League (1993-1995) join West Coast Hockey League
West Coast Hockey League, 1995-1997) suspend operations, return as Colorado Gold Kings in 1998
University Teams
Edit
Division I Independent (1926-1960's) revert to Division II
Division II Independent (1960's-1985) join Great West Hockey Conference
Great West Hockey Conference (1985-1988) league collapsed after 2 of 4 teams dropped hockey
Division I Independent, 1988-1993) join CCHA as affiliate member
CCHA affiliate member, 1993-1995) become full member of league
CCHA, 1995-2013) joining WCHA in 2013 when league disbands
WCHA, 2013-Future)
External Links
Edit
Ad blocker interference detected!
Wikia is a free-to-use site that makes money from advertising. We have a modified experience for viewers using ad blockers

Wikia is not accessible if you've made further modifications. Remove the custom ad blocker rule(s) and the page will load as expected.