Ad blocker interference detected!
Wikia is a free-to-use site that makes money from advertising. We have a modified experience for viewers using ad blockers

Wikia is not accessible if you've made further modifications. Remove the custom ad blocker rule(s) and the page will load as expected.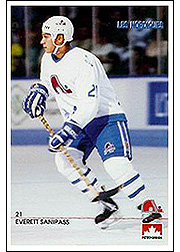 Everett Sanipass (born February 13, 1968 in Big Cove, New Brunswick, Canada) is a retired Canadian ice hockey forward.
Playing career
Edit
Sanipass started his National Hockey League career with the Chicago Blackhawks in 1987 after being drafted 14th overall in the 1986 NHL Entry Draft. Sanipass would also play for the Quebec Nordiques.
Sanipass would also become famed for his role in the 1987 World Junior Hockey Championship brawl (Punch-up in Piestany) that took place between Canada and the Soviet Union. Both teams left the bench, prompting the referees, who were unable to stop the fighting, to leave the ice surface for their own safety. Officials even tried to turn off the lights with the hopes of causing the players to be so concerned with their own safety that they would stop fighting. Both teams were ultimately kicked out of the tournament for their unsportsmanlike behaviour.
Career statistics
Edit

                                            --- Regular Season ---  ---- Playoffs ----
Season   Team                        Lge    GP    G    A  Pts  PIM  GP   G   A Pts PIM
--------------------------------------------------------------------------------------
1984-85  Verdun Junior Canadiens     QMJHL  38    8   11   19   84  12   2   5   7  66
1985-86  Verdun Junior Canadiens     QMJHL  67   28   66   94  320   5   0   2   2  16
1986-87  Verdun Junior Canadiens     QMJHL  24   17   36   53  175  --  --  --  --  --
1986-87  Granby Bisons               QMJHL  11   17   12   29   45   8   6   4  10  48
1986-87  Chicago Blackhawks          NHL     7    1    3    4    2  --  --  --  --  --
1987-88  Chicago Blackhawks          NHL    57    8   12   20  126   2   2   0   2   2
1988-89  Saginaw Hawks               IHL    23    9   12   21   76  --  --  --  --  --
1988-89  Chicago Blackhawks          NHL    50    6    9   15  164   3   0   0   0   2
1989-90  Indianapolis Ice            IHL    33   15   13   28  121  --  --  --  --  --
1989-90  Chicago Blackhawks          NHL    12    2    2    4   17  --  --  --  --  --
1989-90  Quebec Nordiques            NHL     9    3    3    6    8  --  --  --  --  --
1990-91  Halifax Citadels            AHL    14   11    7   18   41  --  --  --  --  --
1990-91  Quebec Nordiques            NHL    29    5    5   10   41  --  --  --  --  --
1991-92  Halifax Citadels            AHL     7    3    5    8   31  --  --  --  --  --
1992-93  Halifax Citadels            AHL     9    1    3    4   36  --  --  --  --  --
--------------------------------------------------------------------------------------
         NHL Totals                        164   25   34   59  358   5   2   0   2   4

External links
Edit