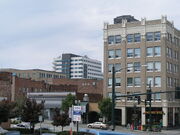 Everett is a town of almost 100,000 people in northwestern Washington state, United States. It is located about 40 kilometres north of Seattle.
Everett was also awarded a Northern Pacific Hockey League expansion team on August 13, 2013 however local ownership was not found and the team was dropped in early September 2013
External Links
Edit
Ad blocker interference detected!
Wikia is a free-to-use site that makes money from advertising. We have a modified experience for viewers using ad blockers

Wikia is not accessible if you've made further modifications. Remove the custom ad blocker rule(s) and the page will load as expected.