Ad blocker interference detected!
Wikia is a free-to-use site that makes money from advertising. We have a modified experience for viewers using ad blockers

Wikia is not accessible if you've made further modifications. Remove the custom ad blocker rule(s) and the page will load as expected.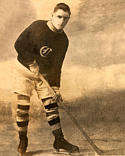 Evariste Payer (Born - December 12, 1887 in Rockland, Ontario, Canada - died 1963) was a Canadian professional hockey player who played three seasons for the Montreal Canadiens.
Playing career
Edit
Payer played for the Montreal Canadiens in the defunct National Hockey Association (NHA) from 1910–11 to 1911–12. He then played senior hockey until 1915, when he joined the army. He re-joined the Canadiens in the NHA's successor National Hockey League (NHL) in 1917–18. Payer would play only 1 game in the NHL.
Career statistics
Edit
Note: GP = Games played, G = Goals, A = Assists, PTS = Points, PIM = Penalties In Minutes
Regular Season
Playoffs
YEAR
TEAM
LEAGUE
GP
G
A
PTS
PIM
GP
G
A
PTS
PIM
1910–11
Montreal Canadiens
NHA
5
0
0
0
3
--
--
--
--
--
1911–12
Montreal Canadiens
NHA
4
1
0
1
0
--
--
--
--
--
1911–12
Montreal Hochelaga
MCHL
7
6
0
6
6
--
--
--
--
--
1912–13
Montreal Champêtre
MCHL
12
13
0
13
15
1
1
0
1
0
1913–14
Montreal Champêtre
MCHL
10
10
0
10
20
--
--
--
--
--
1914–15
Rockland Seniors
LOVL
5
0
0
0
3
--
--
--
--
--
1917–18
Montreal Canadiens
NHL
1
0
0
0
0
--
--
--
--
--
1917–18
Rockland Seniors
LOVL
--
--
--
--
--
--
--
--
--
--
NHL Totals
1
0
0
0
0