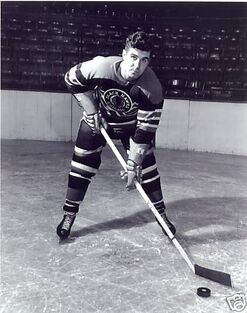 Ernest Leslie Dickens (Born June 25, 1921 in Winnipeg, Manitoba, died September 27, 1985) was a National Hockey League (NHL) defenceman.
He played junior with three different Manitoba Junior Hockey League teams - the Winnipeg Rangers, St. James Canadians, and Winnipeg Monarchs. In 1940 he transferred to the junior and senior Toronto Marlboros.
Dickens turned pro with the Providence Reds of the American Hockey League in 1941-42. The Toronto Maple Leafs called him up late in the season. He played with them through the playoffs and won the Stanley Cup.
World War II then put his pro career on hold. He played for the senior Toronto RCAF Flyers team in 1942-43 and 1943-44.
In 1945-46 he rejoined the Leafs for 15 games but spent most of his time in the minors with the Pittsburgh Hornets. Oner of the players involved in the Max Bentley trade, he joined the Chicago Blackhawks in the middle of the 1947-48 season. Dickens would be a Chicago regular until 1951.
He played one season for the Calgary Stampeders and then retired in 1952.
Awards & Achievements
Edit
External links
Edit
Ad blocker interference detected!
Wikia is a free-to-use site that makes money from advertising. We have a modified experience for viewers using ad blockers

Wikia is not accessible if you've made further modifications. Remove the custom ad blocker rule(s) and the page will load as expected.