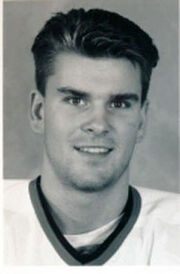 Eric Manlow (born April 7, 1975 in Belleville, Ontario) was a professional ice hockey player who played 37 games in the National Hockey League. He played with the New York Islanders and Boston Bruins.
He was selected 50th overall by the Chicago Blackhawks in the 1993 NHL Entry Draft. Manlow played two more years of junior hockey before turning pro in 1995.
He made his NHL debut with the Boston Bruins in 2000-01.
Most of the rest of his career was spent in the minor pros. Manlow played 37 games in the NHL, scoring 2 goals and 4 assists. He retired in 2008.
References
Edit
Ad blocker interference detected!
Wikia is a free-to-use site that makes money from advertising. We have a modified experience for viewers using ad blockers

Wikia is not accessible if you've made further modifications. Remove the custom ad blocker rule(s) and the page will load as expected.