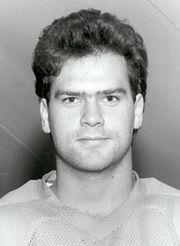 Eric Calder (born June 26, 1963 in Kitchener, Ontario) is a retired Canadian ice hockey defenceman who played in just two games in the National Hockey League with the Washington Capitals.
He played junior for the Cornwall Royals from 1980 to 1983. Calder won the Memorial Cup with the Royals in 1981 and also played for Canada in the 1981 World Junior Ice Hockey Championships. The Washington Capitols chose him 45th overall in the 1981 NHL Entry Draft.
He played in only one game in each of the 1981-82 and 1982-83 seasons for the Capitals. Calder realized his pro career was going nowhere and decided to change course. He entered the Wilfred Laurier University in 1984. When he left Laurier in 1988 he left for Europe where he spent the rest of his career.
Calder retired in 1997.
External links
Edit
Ad blocker interference detected!
Wikia is a free-to-use site that makes money from advertising. We have a modified experience for viewers using ad blockers

Wikia is not accessible if you've made further modifications. Remove the custom ad blocker rule(s) and the page will load as expected.