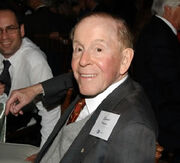 Edward Maurice Bronfman (November 1, 1927 – April 4, 2005) was a Canadian businessman, philanthropist, and member of the Bronfman family.
Born in Montreal, Quebec, the son of Allan Bronfman and the nephew of Samuel Bronfman, founder of Seagram, he founded (with his brother, Peter Bronfman) Edper Enterprises (now called Brookfield Asset Management), a conglomerate company which once had an estimated CAD $100 billion in assets under management. From 1971 to 1978, he and his brother owned the Montreal Canadiens. Bronfman won 4 Stanley Cups in 1973, 1976, 1977, 1978.
He died from colon cancer.
References
Edit
Further reading
Edit
Susan Gittins, Behind Closed Doors: The Rise and Fall of Canada's Edper Bronfman and Reichman Empires (1995)
Patricia Best and Ann Shortell, The Brass Ring: Power, Influence and the Brascan Empire (1988)