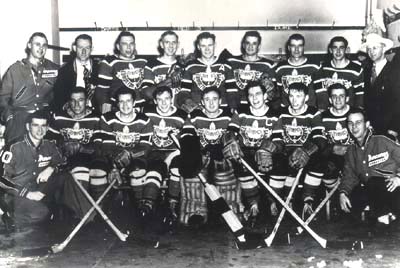 The Edmonton Mercurys were an intermediate and senior team.
They won the Alberta Intermediate Championship in 1948-49 and then went on to win the 1948-49 Western Canada Intermediate Playoffs. This earned them the right to represent Canada at the 1950 World Championship which the Mercurys won. after a tour of Europe.
They then won the 1950-51 Alberta Senior Playoffs.
Mostly because of their experience in 1949-50, the Mercurys were chosen to represent Canada at the 1952 Olympics. The Mercurys won this one as well, They again toured Europe.
Ad blocker interference detected!
Wikia is a free-to-use site that makes money from advertising. We have a modified experience for viewers using ad blockers

Wikia is not accessible if you've made further modifications. Remove the custom ad blocker rule(s) and the page will load as expected.