Ad blocker interference detected!
Wikia is a free-to-use site that makes money from advertising. We have a modified experience for viewers using ad blockers

Wikia is not accessible if you've made further modifications. Remove the custom ad blocker rule(s) and the page will load as expected.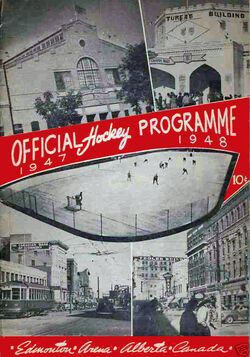 The Edmonton Flyers were a senior and then a minor pro team in Edmonton, Alberta, Canada.
They played two seasons in the Alberta Senior Hockey League from 1939 to 1941. The miltary took over the local arena from 1941 to 1945. The Flyers joined the Western Canada Senior Hockey League after World War II.
The Flyers then turned pro in the Western Hockey League (minor pro) in 1951-52. They were the Detroit Red Wings' number one farm team.
In 1963 the Wings withdrew their sponsorship. This factor, along with problems with the Calgary Stampeders, caused the team to fold. The Stampeders were their closest (geographically) rival and the distances from the other Western Hockey League teams was too much.
They got one senior league championship, in 1947-48, when they also won their only Allan Cup. They also won the Western League championship in 1953, 1955, and 1962.
Season-by-Season Results
Edit
Alberta Senior LeagueEdit
Season
Games
Won
Lost
Tied
Points
Goals
for
Goals
against
Standing
Playoffs
1939-40
32
14
15
3
31
112
119
4th
Lost Semi Final
1940-41
30
15
14
1
31
121
117
3rd
Lost Semi Final
Season
Games
Won
Lost
Tied
Points
Goals
for
Goals
against
Standing
Playoffs
1945-46
36
24
10
2
50
181
130
2nd
Lost Final
1946-47
40
22
16
2
46
174
134
2nd
Lost Semi Final
1947-48
48
24
22
2
50
231
184
3rd
Won Final, Won West, Won Allan Cup
1948-49
48
30
17
1
61
262
172
2nd
Lost Final
1949-50
50
27
18
5
59
238
174
1st
Lost Final
Season
Games
Won
Lost
Tied
Points
Goals
for
Goals
against
Standing
Playoffs
1950-51
60
34
25
1
69
242
198
2nd
Lost Final
Season
Games
Won
Lost
Tied
Points
Goals
for
Goals
against
Standing
Playoffs
1951-52
70
30
32
8
68
244
246
5th Overall
Lost Quarter Final
1952-53
70
31
28
11
73
263
227
4th Overall
Won championship
1953-54
70
29
30
11
69
246
260
4th Overall
Lost Semi Final
1954-55
70
39
20
11
89
273
204
1st Overall
Won championship
1955-56
70
33
34
3
69
236
256
4th Prairie
Lost Prairie Semi Final
1956-57
70
39
27
4
89
239
212
2nd Prairie
Lost Prairie Final
1957-58
70
38
28
4
82
264
225
2nd Prairie
Lost Quarter Final
1958-59
64
33
28
3
69
205
206
2nd Prairie
Lost Prairie Semi Final
1959-60
70
37
29
4
78
246
240
4th Overall
Lost Semi Final
1960-61
70
27
43
0
54
229
295
7th Overall
Out of playoffs
1961-62
70
39
27
4
82
296
245
1st North
Won championship
1962-63
70
24
44
2
50
215
309
3rd North
Lost North Semi Final