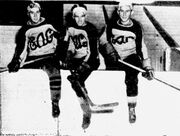 The Edmonton Athletic Club Roamers were a junior team in Edmonton, Alberta.
Roamers was the new name of the Edmonton Athletic Club team. It was renamed in 1938 when the NHL's New York Rangers took over sponsorship of the team. This was the first year that junior teams officially became NHL farm teams and this team was one of the first two (the other was the Winnipeg Monarchs under the New York Americans).
The Roamers won the Edmonton City Junior League and the Alberta Junior Playoffs in 1938-39, 1939-40, and 1940-41.
They won the 1938-39 Western Canada Memorial Cup Playoffs and lost the 1938-39 Memorial Cup Final.
Ad blocker interference detected!
Wikia is a free-to-use site that makes money from advertising. We have a modified experience for viewers using ad blockers

Wikia is not accessible if you've made further modifications. Remove the custom ad blocker rule(s) and the page will load as expected.