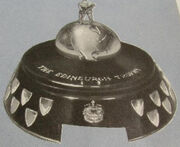 The Edinburgh Trophy (also known as the Edinburgh Cup) was donated by HRH Prince Philip, the Duke of Edinburgh in 1954. He was (and is) the husband of Her Majesty Queen Elizabeth II, who is the Queen of Great Britain and also of Canada.
It was to be awarded to the top minor professional team in Canada. In actual fact it given to the winner of a series between the champions of the Quebec Hockey League and the Western Hockey League (minor pro).
The first series was held in 1954. After 1957 the series was discontinued. The Western Hockey League (minor pro) did not believe that the Quebec Hockey League was up to its standard. There was also increasing competition from the television broadcasts of the Stanley Cup Playoffs.
List of Champions
Edit
List of Series
Edit
Ad blocker interference detected!
Wikia is a free-to-use site that makes money from advertising. We have a modified experience for viewers using ad blockers

Wikia is not accessible if you've made further modifications. Remove the custom ad blocker rule(s) and the page will load as expected.