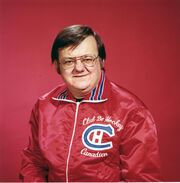 Eddy Palchak is a retired longtime Canadian trainer and equipment manager with the Montreal Canadiens. He was with the club for 31 years. He served on 10 Stanley Cup winners and only Henri Richard's name is engraved on the Cup more than Palchak's.
In 1998, he was inducted into the Hockey Hall of Fame in the Professional Hockey Athletic Trainers Society wing.
He died on November 17, 2011.
External links
Edit
Ad blocker interference detected!
Wikia is a free-to-use site that makes money from advertising. We have a modified experience for viewers using ad blockers

Wikia is not accessible if you've made further modifications. Remove the custom ad blocker rule(s) and the page will load as expected.