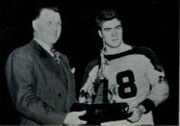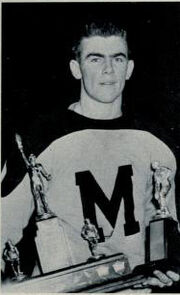 The Eddie Powers Memorial Trophy is awarded annually to the top scorer in the Ontario Hockey League. The trophy was donated by the Toronto Marlboro Athletic Club in memory of Edward Powers, and was first awarded to Tod Sloan of St. Michael's following the 1945–46 season.
Winners of the Eddie Powers Memorial Trophy
Edit
OHA scoring leaders prior to 1946
Edit
Ad blocker interference detected!
Wikia is a free-to-use site that makes money from advertising. We have a modified experience for viewers using ad blockers

Wikia is not accessible if you've made further modifications. Remove the custom ad blocker rule(s) and the page will load as expected.