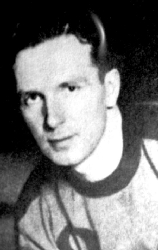 Eddie McCalmon (born May 30 1902, Regina, Saskatchewan, Canada - died 19??) was a Canadian Professional Hockey player who played 2 seasons in the National Hockey League for the Chicago Black Hawks and Philadelphia Quakers.
He played junior hockey for the town of Lumsden in 1917-18 and then continued to play for the town's intermediate team until 1921. He then joined the senior Regina Victorias for two seasons and the University of Saskatchewan from 1923 to 1927.
McCalmon turned pro in 1927-28 with the Saskatoon Sheiks of the Prairie Hockey League. The Chicago Black Hawks accquired him in 1928 and he played in 23 games but only scored 2 goals. He played two seasons in the minor pros until the Philadelphia Quakers gave him another NHL chance in 1930-31. He retired at the end of that season.
NHL Career StatisticsEdit
Note: GP = Games played, G = Goals, A = Assists, PTS = Points, PIM = Penalties In Minutes
External links
Edit
Ad blocker interference detected!
Wikia is a free-to-use site that makes money from advertising. We have a modified experience for viewers using ad blockers

Wikia is not accessible if you've made further modifications. Remove the custom ad blocker rule(s) and the page will load as expected.