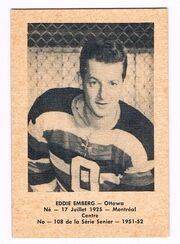 Edwin Angus Emberg (November 18, 1921 – March 28, 2007) was a Canadian professional ice hockey forward who played 2 playoff games in the National Hockey League for the Montreal Canadiens and scored 1 goal. He was born in Montreal, Quebec.
He played junior and senior hockey in the Montreal area and with the Quebec Aces. The Montreal Canadiens called him up for two playoff games in 1944-45 and he scored a goal.
After that short stint Emberg returned to senior hockey. He won the Allan Cup with the Ottawa Senators. He retired in 1952.
External links
Edit
Ad blocker interference detected!
Wikia is a free-to-use site that makes money from advertising. We have a modified experience for viewers using ad blockers

Wikia is not accessible if you've made further modifications. Remove the custom ad blocker rule(s) and the page will load as expected.