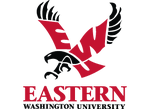 "Eagles" is the name of the sports teams from the University of Eastern Washington located in Cheney, WA, USA. They are in the NCAA but have competed in the BCIHL since 2011-12.
Championships
Edit
none
List of Seasons
Edit
BCIHL Teams
Edit
Eastern Washington Eagles (GNAC - NCAA)
Selkirk College Saints (PWAA - CCAA)
Simon Fraser Clan (GNAC - NCAA)
Trinity Western Spartans (CWUAA - CIS)
Victoria Vikings (CWUAA - CIS)
External Links
Edit
under development
Ad blocker interference detected!
Wikia is a free-to-use site that makes money from advertising. We have a modified experience for viewers using ad blockers

Wikia is not accessible if you've made further modifications. Remove the custom ad blocker rule(s) and the page will load as expected.