The Eastern Ontario Junior C Hockey League is a Junior ice hockey league in Ontario, Canada, sanctioned by the Ottawa District Hockey Association and Hockey Canada.
John A. Cameron Trophy League Champions
Edit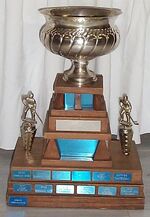 2010 Embrun Panthers
2009 Embrun Panthers
2008 East Ottawa Thunder
2007 East Ottawa Thunder
2006 Embrun Panthers
2005 Casselman Stars
2004 Embrun Panthers
2003 Vankleek Hill Cougars
2002 Embrun Panthers
2001 Embrun Panthers
2000 Casselman Stars
1999 Casselman Stars
1998 Casselman Stars
1997 Embrun 72's
1996 Embrun 72's
1995 Embrun 72's
1994 Embrun 72's
1993 Casselman Stars
1992 Vankleek Hill Cougars
1991 St. Isidore Aigles
1990 St. Isidore Aigles
1989 Casselman Stars
1988 Rockland Nationals
1987 St. Isidore Aigles
1986 Chesterville Flyers
1985 Chesterville Flyers
1984 Alexandria Glens
1983 Embrun 72's
1982 Embrun 72's

1981 Crysler Raiders
1980 Embrun 72's
1979 Char-Lan Rebels
1978 Embrun 72's
1977 Chesterville Jets
1976 Char-Lan Rebels
1975 Char-Lan Rebels
1974 Cornwall Township Polaris
1973 Char-Lan Rebels
1972 Unknown
1971 Glen Walter Flyers
1970 Osnabruck Township Angels
1969 North Eamers Corners
External links
Edit

[[Category:Junior
Ad blocker interference detected!
Wikia is a free-to-use site that makes money from advertising. We have a modified experience for viewers using ad blockers

Wikia is not accessible if you've made further modifications. Remove the custom ad blocker rule(s) and the page will load as expected.