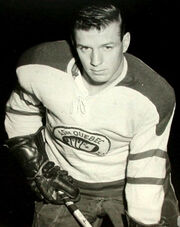 Earl "Ching" Oswald Johnson (born June 28, 1931 in Fort Frances, Ontario) played one regular-season game for the Detroit Red Wings in 1953–54. His name somehow ended up on the Stanley Cup. When the Stanley Cup was redone during the 1957–58 season Johnson's name was left off the newer ring.
Johnson played three years of junior hockey for Windsor - 1948–49, 1949–50, and 1950–51. He also played in the minors playing in six different leagues in 13 different cities in 15 professional seasons (1949–50, and 1951–52 to 1963–64).
Career statistics
Edit
&-name was engraved on the Stanley Cup
References
Edit
Total Hockey 2nd Edition, Dan Diamond; Scarbrough, Ont. Page 734.
Ad blocker interference detected!
Wikia is a free-to-use site that makes money from advertising. We have a modified experience for viewers using ad blockers

Wikia is not accessible if you've made further modifications. Remove the custom ad blocker rule(s) and the page will load as expected.