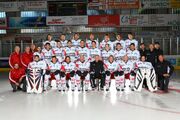 EC Peiting
City:
Peiting, Germany
League:
Oberliga
Founded:
1968
Home Arena:
Eissporthalle Peiting
Colors:
Red, White, Blue
EC Peiting is an ice hockey team in Peiting, Germany. They play in the Oberliga, the third level of ice hockey in Germany. The club was founded in 1968.
Achievements
Edit
Oberliga champion : 1974.
External links
Edit