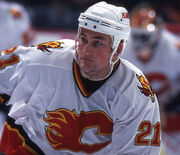 Dwayne Hay (born February 11, 1977 in London, Ontario) is a Canadian ice hockey player.
Originally selected by the Washington Capitals in the 1995 NHL Entry Draft, Hay played two games with the Capitals before he was traded to the Florida Panthers in exchange for Esa Tikkanen in what turned out to be their run to the finals in 1998. Hay also played for the Tampa Bay Lightning and Calgary Flames.
He played for Canada at the 1997 World Junior Ice Hockey Championships while a player for the Guelph Storm.
His one complete NHL season was 2000-01 with the Calgary Flames. His NHL totals were 79 games and 2 goals and 4 assists.
External links
Edit
Ad blocker interference detected!
Wikia is a free-to-use site that makes money from advertising. We have a modified experience for viewers using ad blockers

Wikia is not accessible if you've made further modifications. Remove the custom ad blocker rule(s) and the page will load as expected.