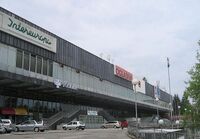 The Dvorana Tivoli are two multi-purpose indoor sporting arenas in Ljubljana, Slovenia located in Tivoli Park. The complex was opened in 1965 and the larger, ice hockey arena has a seating capacity of 7,000 people. When configured to host basketball games, the capacity is reduced to 6,000. The smaller, basketball hall hosts the home games of the professional basketball team KK Union Olimpija, and the larger also hosts home games of the HDD Olimpija Ljubljana professional ice hockey club. It has a seating capacity for 4,500 people.
Regular sporting events:

KK Union Olimpija (basketball) play all home national and international games (Euroleague, NLB League, Premier A Slovenian Basketball League).
HDD Olimpija Ljubljana (ice hockey) play all home national and international games (EBEL, Slohokej Liga).
One time sporting events:
Apart from being a sporting venue, the Hala Tivoli also hosts numerous concerts, musicals and other shows.
External links
Edit
Ad blocker interference detected!
Wikia is a free-to-use site that makes money from advertising. We have a modified experience for viewers using ad blockers

Wikia is not accessible if you've made further modifications. Remove the custom ad blocker rule(s) and the page will load as expected.