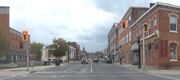 Dundas was a town of about 24,000 people in southern Ontario, Canada.
It is now part of Hamilton.
It won the 2010 Kraft Hockeyville.
(Major Intermediate A Hockey League, 1978-1980) moved to Senior A
(OHA Senior A Hockey League, 1985-1987) go independent
(Independent, 1987-1988) folded
Southwestern Senior A Hockey League, 2000-2003) join OSAAAHL
(Ontario Senior AAA Hockey League, 2003-2004) league merged into MLH
(Major League Hockey, 2004-2011) league renamed ACH
(Allan Cup Hockey, 2011-Present)
Market Street Arena
Dundas Driving Park Rink
Olympic Ice Surface Arena
Champions
Edit
External Links
Edit
Ad blocker interference detected!
Wikia is a free-to-use site that makes money from advertising. We have a modified experience for viewers using ad blockers

Wikia is not accessible if you've made further modifications. Remove the custom ad blocker rule(s) and the page will load as expected.