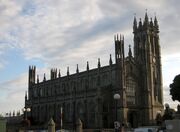 Dundalk (from the Irish: Dún Dealgan meaning "Dalgan's fort" – which has associations with the mythical warrior Cúchulainn) is the largest town of the Republic of Ireland. It is located close to the border with Northern Ireland and is home to about 35,000 people.
Ice hockey in Dundalk
Edit
The 2007 DIII World Championships were held in Dundalk. The games were played at the Dundalk Ice Dome and proved to be quite a success; this is in the wake of this success that the Irish Ice Hockey League was created.
External Links
Edit