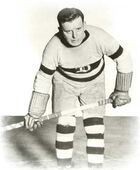 Gordon Blanchard "Duke" Keats (March 21, 1895 in Montreal, Quebec – January 16, 1971) was a Canadian professional centre who played for the Chicago Black Hawks, Boston Bruins, and Detroit Cougars in the National Hockey League. He also spent time with the Edmonton Eskimos of the Western Canada Hockey League and the Toronto Blueshirts of the National Hockey Association.
He played for several senior teams in Northern Ontario from 1912-15 before playing for the Toronto Blueshirts for two seasons (1915-17).
Following two years in the Canadian military Keats joined the Edmonton Eskimos of the Alberta Big Four League in 1919. He stayed with the team when it joined the Western Canada Hockey League in 1921 until it disbanded in 1926.
Keats then moved to the NHL's Boston Bruins, Chicago Black Hawks, and Detroit Cougars until 1929. In that year he joined the Tulsa Oilers of the American Hockey Association.
Keats finished off his career back with the now minor pro Edmonton Eskimos in 1934.
He was inducted into the Hockey Hall of Fame in 1958.
External link
Edit
Ad blocker interference detected!
Wikia is a free-to-use site that makes money from advertising. We have a modified experience for viewers using ad blockers

Wikia is not accessible if you've made further modifications. Remove the custom ad blocker rule(s) and the page will load as expected.