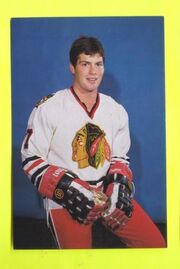 Doug Lecuyer (Born - March 10, 1958 in Wainwright, Alberta) is a retired Canadian professional ice hockey forward who played 126 games in the National Hockey League for the Chicago Black Hawks, Winnipeg Jets, and Pittsburgh Penguins, scoring 11 goals and 31 assists.
He started out in junior hockey with the Edmonton Oil Kings, Portland Winter Hawks, and the Calgary Centennials, all in the Western Hockey League. Thanks to good offensive numbers, the Chicago Blackhawks selected him 29th overall in the 1978 NHL Amateur Draft.
Starting in 1978, he saw some action on a third line with the Hawks, but also spent some time in the minors. The Winnipeg Jets accquired him in 1980 and he played 45 games for them in 1980-81. The next season was in the minors with the Tulsa Oilers and the Pittsburgh Penguins picked him up on waivers in the 1982-83 season.
That would be his last in hockey as he played only 12 games for the Pens and the rest with the Baltimore Skipjacks.
External links
Edit
Ad blocker interference detected!
Wikia is a free-to-use site that makes money from advertising. We have a modified experience for viewers using ad blockers

Wikia is not accessible if you've made further modifications. Remove the custom ad blocker rule(s) and the page will load as expected.