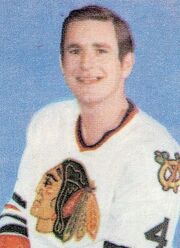 Douglas William Jarrett (born 22 April, 1944, London, Ontario - died Feb. 10, 2015 in Fort Erie, Ontario) was a retired Canadian ice hockey player. He was a defenceman in the National Hockey League with the Chicago Black Hawks and New York Rangers.
He played junior hockey for the St Catharines TeePees and the St. Catharines Black Hawks, both farm teams of the Chicago Blackhawks. In 1964 he turned pro with Chicago and remained a regular for eleven seasons. A strong defensive defenceman, he was usually paired with Keith Magnuson.
Jarrett was traded in 1976 to the New York Rangers for Gilles Villemure. Injuries took their toll and Jarrett only saw limited action with the Rangers. He retired in 1977 after playing a season with the New Haven Nighthawks.
In his NHL career, he played in 775 regular season games, scoring 38 goals and 182 assists. In the playoffs, he played in 99 games and scored 7 goals and 16 assists.
External links
Edit
Ad blocker interference detected!
Wikia is a free-to-use site that makes money from advertising. We have a modified experience for viewers using ad blockers

Wikia is not accessible if you've made further modifications. Remove the custom ad blocker rule(s) and the page will load as expected.