Ad blocker interference detected!
Wikia is a free-to-use site that makes money from advertising. We have a modified experience for viewers using ad blockers

Wikia is not accessible if you've made further modifications. Remove the custom ad blocker rule(s) and the page will load as expected.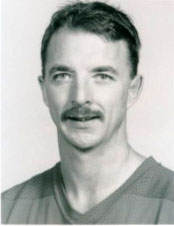 Doug Halward (born November 1, 1955 in Toronto, Ontario) is a retired professional ice hockey defenceman who played 663 games in the National Hockey League. He played for the Boston Bruins, Los Angeles Kings, Vancouver Canucks, Detroit Red Wings and Edmonton Oilers.
Career statistics
Edit

                                            --- Regular Season ---  ---- Playoffs ----
Season   Team                        Lge    GP    G    A  Pts  PIM  GP   G   A Pts PIM
--------------------------------------------------------------------------------------
1973-74  Peterborough Petes          OHA    69    1   15   16  103  --  --  --  --  --
1974-75  Peterborough Petes          OHA    68   11   52   63   97  --  --  --  --  --
1975-76  Rochester Americans         AHL    54    6   11   17   51   4   1   0   1   4
1975-76  Boston Bruins               NHL    32    1    5    6    6   1   0   0   0   0
1976-77  Rochester Americans         AHL    54    4   28   32   26  --  --  --  --  --
1976-77  Boston Bruins               NHL    18    2    2    4    6   6   0   0   0   4
1977-78  Rochester Americans         AHL    42    8   14   22   17   6   0   3   3   2
1977-78  Boston Bruins               NHL    25    0    2    2    2  --  --  --  --  --
1978-79  Springfield Indians         AHL    14    5    1    6   10  --  --  --  --  --
1978-79  Los Angeles Kings           NHL    27    1    5    6   13   1   0   0   0  12
1979-80  Los Angeles Kings           NHL    63   11   45   56   52   1   0   0   0   2
1980-81  Los Angeles Kings           NHL    51    4   15   19   96  --  --  --  --  --
1980-81  Vancouver Canucks           NHL     7    0    1    1    4   2   0   1   1   6
1981-82  Dallas Black Hawks          CHL    22    8   18   26   49  --  --  --  --  --
1981-82  Vancouver Canucks           NHL    37    4   13   17   40  15   2   4   6  44
1982-83  Vancouver Canucks           NHL    75   19   33   52   83   4   1   0   1  21
1983-84  Vancouver Canucks           NHL    54    7   16   23   35   4   3   1   4   2
1984-85  Vancouver Canucks           NHL    71    7   27   34   82  --  --  --  --  --
1985-86  Vancouver Canucks           NHL    70    8   25   33  111   3   0   0   0   4
1986-87  Vancouver Canucks           NHL    10    0    3    3   34  --  --  --  --  --
1986-87  Detroit Red Wings           NHL    11    0    3    3   19  --  --  --  --  --
1987-88  Detroit Red Wings           NHL    70    5   21   26  130   8   1   4   5  18
1988-89  Adirondack Red Wings        AHL     4    1    0    1    0  --  --  --  --  --
1988-89  Detroit Red Wings           NHL    18    0    1    1   36  --  --  --  --  --
1988-89  Edmonton Oilers             NHL    24    0    7    7   25   2   0   0   0   0
--------------------------------------------------------------------------------------
         NHL Totals                        663   69  224  293  774  47   7  10  17 113

External links
Edit