Ad blocker interference detected!
Wikia is a free-to-use site that makes money from advertising. We have a modified experience for viewers using ad blockers

Wikia is not accessible if you've made further modifications. Remove the custom ad blocker rule(s) and the page will load as expected.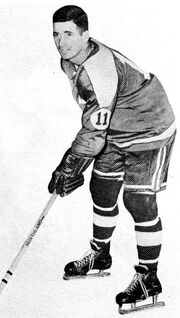 Douglas Patrick Adam (September 7, 1923 – December 24, 2001) was a Canadian professional ice hockey player in the National Hockey League. He was born in Toronto, Ontario.
Position: Left wing
Shoots: Left
Height: 5 ft 11 in
Weight: 165 lb
Playing career
Edit
Adam spent most of his career playing in various minor leagues, but did spend four games at the NHL level with the New York Rangers in 1949–50. During those four games, he scored no goals, but earned one assist. After his retirement as a player, he coached in the EHL and AHL.
Career statistics
Edit

                                            --- Regular Season ---  ---- Playoffs ----
Season   Team                        Lge    GP    G    A  Pts  PIM  GP   G   A Pts PIM
--------------------------------------------------------------------------------------
1945-46  Hollywood Wolves            PCHL   10    0    4    4    8  --  --  --  --  --
1947-48  Tacoma Rockets              PCHL   57   34   25   59   57  --  --  --  --  --
1948-49  Tacoma Rockets              PCHL   68   24   30   54   45   6   5   1   6   4
1949-50  New York Rangers            NHL     4    0    1    1    0  --  --  --  --  --
1949-50  Tacoma Rockets              PCHL   63   53   26   79   68   5   3   2   5   6
1950-51  Tacoma Rockets              PCHL   68   31   19   50   68   6   2   0   2   4
1951-52  Tacoma Rockets              PCHL   53   31   26   57   43   6   0   0   0   0
1952-53  Tacoma Rockets              WHL    70   39   31   70   74  --  --  --  --  --
1953-54  Seattle-Sask.-Vanc.         WHL    63   18   20   38   30  --  --  --  --  --
1954-55  Vancouver-N.W.              WHL    67   30   22   52   53  --  --  --  --  --
1955-56  New Westminster Royals      WHL    55   16   20   36   36   4   1   0   1   5
1956-57  Charlotte Clippers          EHL    63   65   49  114   46  13  11   7  18  16
1957-58  Charlotte Clippers          EHL    55   44   33   77   32  14   7  10  17   8
1958-59  Philadelphia Ramblers       EHL    64   39   38   77   66   6   5   4   9   4
1959-60  Philadelphia Ramblers       EHL    64   46   43   89  114   4   1   2   3  20
1960-61  Philadelphia Ramblers       EHL    41   16   23   39   24   3   1   0   1   2
--------------------------------------------------------------------------------------
         NHL Totals                          4    0    1    1    0  --  --  --  --  --

Coaching statistics
Edit

Season  Team                  Lge Type        GP  W  L T OTL   Pct Result 
1958-59 Philadelphia Ramblers EHL Player-Head 64 30 33 1   0 0.477 Lost in round 1 
1959-60 Philadelphia Ramblers EHL Player-Head 64 31 30 3   0 0.508 Lost in round 1 
1960-61 Philadelphia Ramblers EHL Player-Head 64 32 28 4   0 0.531  
1971-72 Rochester Americans   AHL Head Coach  37 12 20 5   0 0.392 

External links
Edit