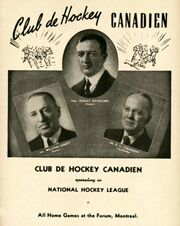 Donat Raymond (January 3, 1880 – June 5, 1963) was a builder in the National Hockey League.
Born in in St. Stanislas de Kostka, Quebec, Donat was a member of the Canadian Senate from 1926 to 1963. Donat was also head of the Canadian Arena Company that owned the Montreal Forum and the Montreal Canadiens, One of his final acts was to approve the financing and plans of the arena before he died. He won 8 Stanley Cup, 2 with the Montreal Maroons 1926-35, and 5 more cups with Montreal Canadiens in 1944-46-53-56-57.
Donat was inducted into the Hockey Hall of Fame in 1958.
Ad blocker interference detected!
Wikia is a free-to-use site that makes money from advertising. We have a modified experience for viewers using ad blockers

Wikia is not accessible if you've made further modifications. Remove the custom ad blocker rule(s) and the page will load as expected.