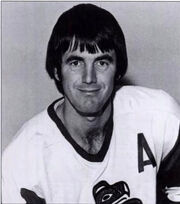 Don Westbrooke (born February 21, 1943 in Collingwood, Ontario) is a retired Canadian right winger who was a career minor leaguer from 1963 to 1978.
He played junior hockey for the Toronto Marlboros and Brampton Seven Ups from 1960 to 1962. He turned pro with the Toledo Blades of the International Hockey League (IHL) in 1963-64, winning the Gary F. Longman Memorial Trophy.
Westbrooke spent much of his career in the IHL and the Western Hockey League.
He retired in 1978.
Ad blocker interference detected!
Wikia is a free-to-use site that makes money from advertising. We have a modified experience for viewers using ad blockers

Wikia is not accessible if you've made further modifications. Remove the custom ad blocker rule(s) and the page will load as expected.