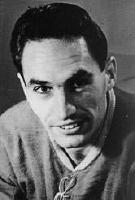 Position: Center / Left Wing
Rope played junior hockey for the Winnipeg Monarchs, St. Michaels College Majors, and Toronto Marlboros - all as a Toronto Maple Leafs' prospect.
He played senior hockey in Ontario in the 1950's. Rope won a bronze medal with the Canadian team at the 1956 Olympics and a silver at the 1960 Olympics.
Career statistics
Edit
Awards & Achievements
Edit
Manitoba Junior Hockey League First All-Star Team (1948)
Turnbull Cup Manitoba Junior Hockey League Championship (1948)
Ontario Hockey Association Senior A Championship (1950, 1953, & 1955)
Eastern Canada Senior Hockey Championship (1950, 1953, & 1955)
Allan Cup Canada Senior Hockey Championship (1950, 1953, & 1955)
Played in Olympics Winter Games (1956 & 1960)
Western Ontario Senior Hockey League Championship (1957)
Ontario - Northern Ontario Senior Hockey League Championship (1958 & 1959)
Played in IIHF World Championship (1962)